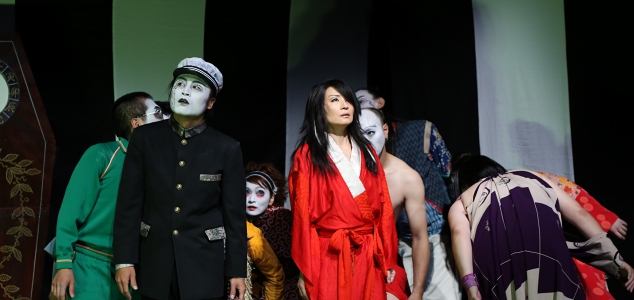 photograph copyright 2012 Dixie Sheridan

Karuta has fallen for a living man. The famous thief Kitaro has stolen her heart. This is unacceptable to her family: the dead funeral director Danjuro and his dead wife. They would rather she marry a respectable boy, one who has already crossed the river into the other world.

Hanafuda Denki is a psychedelic musical treat for the senses, written in 1967 by Japanese avant-garde master Shuji Terayama (1935-1983). Terayama's works are no stranger to New York. His theatre troupe performed at Ellen Stewart's La Mama E.T.C. several times, and in fact a memorial service was held for him there when he died in 1983.

Tokyo's Ryuzanji Company toured Hanafuda Denki in 2012, receiving an Overall Excellence Award for Design at the New York International Fringe Festival and a Pick of the Fringe award at the Victoria Fringe Festival.

Performed in Japanese with English surtitles.


Tuesday- Saturday 8 pm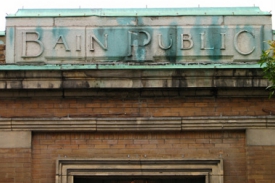 Five performances only
A Goth-Manga-Kabuki-Pop gender-bending musical treat for the senses, written by avant-garde master Shuji Terayama (1935-1983). Performed by Tokyo's world famous Ryuzanji Company in Japanese with English surtitles. One of the most colourful, cunning and hilarious epics about life and death you will see in your lifetime.

more info & Ticket

日本語ご案内


Tuesday, January 21, 2014 - 8:30pm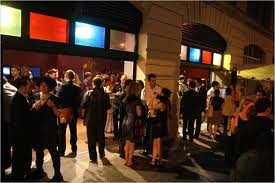 Wednesday, January 22, 2014 - 8:30pm
Thursday, January 23, 2014 - 8:30pm
Friday, January 24, 2014 - 8:30pm
Saturday, January 25, 2014 - 4:00pm & 8:30pm,
Sunday, January 26, 2014 – 4:00pm






For Tickets & Information at: here.org or call 212-352-3101

日本語ご案内

Hanafuda-PR_english.pdf Hanafuda-PR_Japanese20.pdf
*This production is a part of SubletSeries@HERE, HERE's curated rental program, which provides artists with subsidized space and equipment, as well as technical support.


By Shuji Terayama 
Director, Set Design, Costumes, Make-up: Saori Aoki
Music: Makoto Honda / Choreography: Daiko Ishimaru / Subtitle Translation: Claire Tanaka
Lighting: ROMI, Etsuo Yamagami / Sound: Nanaho Unebe
Artistic Director: Show Ryuzanji

The play is set in the Taisho Period (1912-1926) at a funeral parlour in downtown Tokyo. The funeral parlour is called the House of the Dead, and the family of the master are all said to be dead. But the only daughter of the master, Karuta falls in love with a living guy named Kitaro of the Graveyard (what an irony that a living man's name is Kitaro of the Graveyard!) Falling in love with a living man means violating a taboo and it becomes a big issue in the family. Danjuro, the undertaker schemes to have his daughter Karuta seduced by a beautiful dead boy and tries to send her off to the world of the dead. Now three-sided, or even four-sided chasing starts, chasing one another over the world of the dead to the land of the living.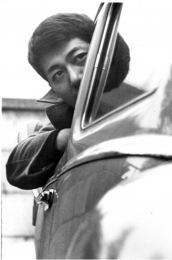 Shuji Terayama (1935-1983) was an avant-garde playwright known for his highly provocative work. He spearheaded Japan's avant-garde arts movement as a playwright, stage director, film director, poet, photographer, novelist, songwriter, and more. His controversial book "Encouraging the Young to Leave Home" attracted a number of young people. His vast oeuvre of theatrical works include "Knock", "La Mari-Vison", and "Lessons to Servants". Some of his more well-known film works are: "Throw Away Your Books, Rally in the Streets", and "Emperor Tomato Ketchup". He was also a horseracing and boxing commentator.

When asked his main occupation, his typical response was to say,
"My job is Shuji Terayama."

He first visited America in 1968, where he met such leaders of the underground theatre scene as Ellen Stewart (La Mama E.T.C.) and Julian Beck (The Living Theatre). In 1980, he put on Directions to Servants at the Spoleto Festival USA and at La MaMa (Show Ryuzanji also participated in this tour). When he died at the age of 47, on May 5, 1983, his obituary was published in the New York Times, and Ellen Stewart held a memorial service at La Mama.mmm


Director
:
青木砂織 SAORI AOKI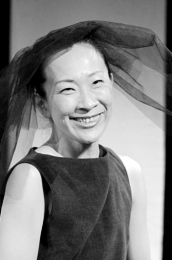 Saori Aoki, the Director, Set Design, Costumes, Make-up of this performance, highlighted the line by Danjuro, "Try to remember – was there even one person who wasn't dead", and made a very musical play where death and life turn over and mingle. Danjuro sells death as merchandice, on the other hand Kitaro enjoys "life" and keeps stealing something invisible from the people. Surrounded by many weird dead people, the audience can longer tell whether Danjuro or Kitaro is the dead one, and which one is more alive. Their death and lives mingle and turn over, and the audience will start to ask to themselves "what is death? And what is life anyway?"

Can you stay alive after watching this performance?


★★★★★Pitch-black comedy
It's Cirque Surreal!!
Delightfully overwhelming from start to finish, this spectacle-driven production is an hour and change well spent.
A YOUNGER THEATRE ★★★★ 
The players perform a seemingly impossible balancing act, remaining completely committed while winking at the audience, bringing them in on the fun.
If this is hell, sign me up. Heck, I'll even become fluent in Japanese.
You might ponder the point at first, but stick with the show: A piercing revelation at the climax will haunt you on your way out. 
BEST NEW YORK COMEDY★★★★4/4
NY Overall Excellence Award at the FringeNYC
Thus far, Hanafuda Denki blew my mind on the levels of creativity, theatrity, humour, talent and pure delight.
Pick of the Fringe award at the Victoria's Fringe
CFUV's Picks of the Fringe
Victoria Critics Choice Awards 2012
,http://gdata.youtube.com/feeds/api/videos/c03l6wxxwZQ,standard,{"playerWidth":"425","useCustom":false,"autoPlay":false,"autoLoop":true,"autoNext":false,"quality":"medium","qualityName":"中"}








Supported by the Agency for Cultural Affairs Government of Japan in the fiscal 2013