Ryuzanji Company Asian Tour Project 2020
YUI SHOSETSU - Rebel Samurai
Introduction
Yui Shosetsu (1605-51) was a rebel during the early Edo period who tried unsuccessfully to overthrow the governing Tokugawa regime. His plot was discovered, and he committed suicide. The playwright, Kara Juro identified with this rebellion and portrayed himself as a rebel against Japan's burgeoning postwar system.

In 1968, rebellions were simultaneously being raised by young people all over the world. This global student movement spread to universities throughout Japan. This influenced the avant-garde movement, which blew a new wind into Japan's world of arts and culture. Kara Juro, the hero of Japan's avant-garde theatre movement, erected a red tent in the middle of a park in the rapidly growing city of Tokyo and put on the story of Yui Shosetsu. This red tent became a symbol for young artists who were dissatisfied with the existing system and tried to create new areas for their activities.

Ryuzanji Show is the artistic director of Ryuzanji Company and was one of the young people fascinated by Juro Kara. He made his debut as an actor with this play after becoming a member of the Red Tent Theatre Company. He is now producing this energetic performance of Yui Shosetsu for his 2020 world tour in celebration of the 35th anniversary of the foundation of Ryuzanji Company.




KARA Juro (唐 十郎)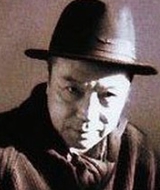 Born in Tokyo in 1940, Kara graduated from Drama and Theater Arts at Meiji University and started the Jokyo Gekijo theater company in 1963. Since his first Red Tent production at Hanazono Shrine in Shinjuku in 1967, performances in tents have remained at the heart of his activities. His company performed in Korea in 1972, in Bangladesh in 1973, and in refugee camps in Lebanon in 1974.
He was at the forefront of Japan's underground theater movement, directing plays featuring monologues replete with lyrical romanticism and performed by actors with superb physiques. In 1970 KARA won the KISHIDA Drama Award with "The Virgin's Mask" and in 1982 he won the AKUTAGAWA Award as well as other awards with "A Letter from Sagawa." In 2006, he was awarded the Yomiuri Theater Award's Honors Prize and Meiji University's Special Award for Lifetime Achievement. He has worked as an actor in theatre and film, and has also appeared in dramas and commercial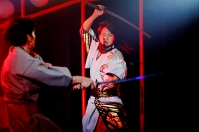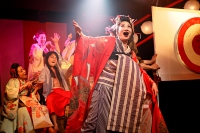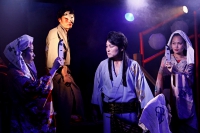 photo: YOKOTA Atsushi
Synopsis
The era is Edo (1603 – 1868). The scene is the bank of a wide river.
To the south, a rebellion has been suppressed, and as a result, not a single blade of grass remains. Just one person returns from the south alive, the samurai Hanbei who comes looking for Yui Shosetsu. He finds someone who looks similar and tries his luck, but the person who meets him is not a samurai, but a swordmaster, Jubei, who has gotten lost in pursuit of the truth of the sword.
The next person to come to the riverbank is Marubashi Chuya, a spearmaster, but he just sings and is very weak. (In fact, he is only pretending to be an idiot as he waits for the revolution.) Then, the dashing Yui Shosetsu appears from the south and laments the misery of the south. However, an old woman who is Shosetsu's mother shouts out that this man is an imposter. Before the angry Shosetsu stands a man with a mysterious mask.

Who is this, who appeared in front of the samurai waiting for their hero, Yui Shosetsu?
Are there any heroes?
No? Will he come? No?
If there are no heroes, how will you live?



Title:YUI SHOSETSU - Rebel Samurai

Directed by RYUZANJI Show
Written by KARA Juro
Music Composed by SUWA Sou

Performed by:
ITO Hiroko, IMURA Takao, UEDA Kazuhiro, TANI Munekazu, IWAO, KOZU Takuhei, SATOMI Kazuhiko, HIRANO Naomi, YAMASHITA Naoya, YAMAMARU Rina, HOSHI Misaki, HARU Haruka, V. GINTA, RYUZANJI Show

<Staff>
Choreography: JINZAI Hiromi
Fight Choreography: UEDA Kazuhiro
Stage design: V. GINTA
Lighting design: OKUDA Kenta (colore)
Sound design: TAKASHIO Ken
Costume design: TAKEUCHI Yoko
Stage manager: KOBAYASHI Iwao
Lighting operation: MINAKATA Yuri
Sound operation: SUWA Sou
Subtitle operation: HASHIGUCHI Kana
English translation: TANAKA Claire
Company manager: UNEBE Nanaho

<Indonesia Project Team>
  Tomomi Yokosuka
  Lusia Neti Cahyani
  Dede Pramayoza
  Theodorus Christanto


Production: RYUZANJI COMPANY

Supported by the Agency for Cultural Affairs, Government of Japan through the Japan Arts Council

Ryuzanji Company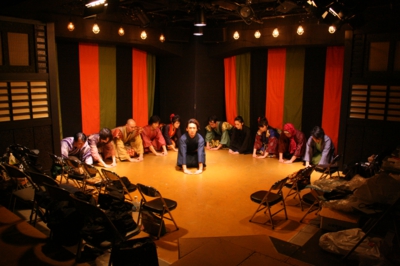 Ryuzanji Company has its origins in Japan's Angura (underground) theatre movement of the 1960s, a time when Japan's contemporary theatre culture underwent a revolution. Show Ryuzanji founded the company in 1984 after participating in two of the major Shogekijo movement theatre companies, Jokyo Gekijo (led by Kara Juro) and Waseda Shogekijo (led by Tadashi Suzuki).

Ryuzanji Company operates under the vision that "theatre is an asylum", creating a new theatre network within Japan and around the world together with "friends we haven't met yet." Theatre is truly the asylum of the masses - a place for encountering, making, watching, and gathering together - this is the eternal challenge of theatre people.

Ryuzanji has also established "Rakujuku" (1998~) a troupe of local adults open to people aged 45 and older, and the senior theatre company "Paradise Ichiza" (2006~) members of whom have an average age of 82. In 2012, Rakujuku performed in its first overseas festival at the Fringe Festival in Victoria, Canada, and won the prize for Best Ensemble. These groups are creating an unprecedented theatrical revolution with their motto of "Watching something fun makes you feel good!" The groups are at the forefront of Japan's emerging senior theatre movement.